• 1351 words
• By Scott Mathson
Hey, I've got some exciting news to share: I'm recording a full-length album!
It's something that I've always wanted to do and I'm so happy to be moving towards this goal. I'm prioritizing my lifelong dream of putting a record out!
Songwriting has been a constant for me, and it's particularity helpful in processing things. In looking at the past few years of my writing, I started seeing themes surface, a story developing, and this collection of songs form my debut album: 'As I Am' (song previews below).
Background - life, work, and work-life
After leaving college, I became very work focused. It felt like I had to, to meet goals and prove myself. I worked very hard and have been fortunate with the successes that I've had and continue to have in my full-time tech career. In 2019, I even launched my own software business Plink that brought me from Montana to a stage in NYC where I found myself pitching my idea at a startup accelerator. I'm proud of this.
I am continuing my full-time career, while also finding the balance to prioritize adding music back into my life. Moving towards living a life aligned with my many passions has been years in the making, and plenty of work in therapy. While all work, work work, I started losing track of my identity as a musician, songwriter, and artist. Yet I'm so happy to be working on my craft again, it's deeply fulfilling. I'm taking it more seriously, and can now bring in the work ethic that I've developed.
'As I Am' Process - grief, recording, and sharing
Life has thrown a number of curveballs at all of us these past few years. I could go on at length about the impacts from the pandemic and isolation or recent economic difficulties, not to mention an ever-growing division and social injustice. It plain hurts most of the time.
For myself, I recently experienced the deeply sorrowful loss of my dear Dad, a best friend. I also came to understand and feel the sting of a layoff, the threat to security. And I'm navigating the complexities of relationships, both with myself and others, and the complexities of my own mind.
Confidence comes from proving to yourself that you can stand when you feared you might fall. And grace comes from allowing yourself to fall, and then helping yourself to get back up.
'As I Am' captures much of this, much of my own processing and navigating. It brings the listener into my life, as I currently am, and into universal experiences and emotions that we all feel. My dream of wanting to release an album is driven partly by legacy and history, partly by vulnerability, and partly by personal growth. Of course it's daunting, and it's also fulfilling and exciting - it's everything all at once.
Here's a short clip of an early demo of the title track for 'As I Am'.
Here's a short clip of an early demo of 'Heart Wide Open' from 'As I Am'.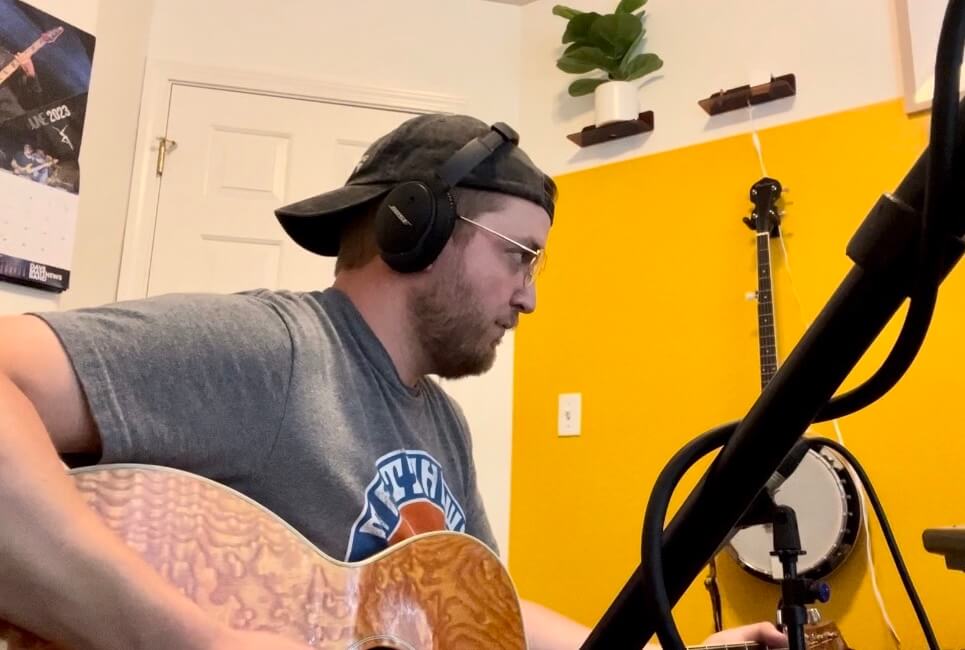 'Heart Wide Open' demo by Scott Mathson
I've started recording in my little home studio in western Montana and I also plan to visit a professional studio to round it off, and then into mixing and mastering. I want to do this up right. Tracking and recording this collection of songs that I have for this record is such an interesting exercise. I love finding "the zone", or a state of flow, I love seeing how these songs are evolving during the recording process, and I love the satisfaction of moving towards my goals.
I've been sharing these songs, and other material, live at open mic nights around Montana recently, and I love performing live again after a decade without. As anxiety-inducing as it all is, it's so rewarding and I know the same will be said when I share all of 'As I Am' with the world.
The album's release timing and other details are still somewhat to be determined, though I'm aiming to start releasing songs late 2023. I'm taking my time with the process, though I do have a pretty solid start on a number of the tracks already. I'll share updates as things evolve!
Thanks for listening and thanks for the support. I have so many of you to thank individually for the encouragement and support - I'll save that for the album sleeve. Be well, friend! :-)
---
Follow Scott Mathson on Instagram, Twitter, music platforms, and subscribe to his email newsletter.